ME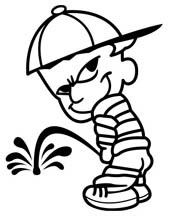 Whenever I get pissed ON the person then proceeds to ask "What's wrong?"

WTF

?? What do you mean "What's wrong?"? HELLO?? I was the one who's feelings were not considered in the first place, you pissed on ME! And now I am the one who is wrong for having a bad attitude because of it. Why do people do this? Especially men. It is perfectly

OK

for a man to be demanding, sarcastic, inconsiderate, rude, etc...but how dare I be upset by it? You don't, in any way, want to come across as inconsiderate or rude, even to people who have wronged you in the past, but it is

OK

to do it to me? Step back...hold the presses....Why is that OK? Did I miss that class? If you happen to be a man reading this, take it from me and please don't put your significant other LAST on your To-Do List.

Today's RANT is brought to you in part by Charmin Toilet Paper...Please don't squeeze the Charmin!!